There are 5 books that you can collect after you answered a few questions. These are what I have gathered.


Book 1: Puzzle and Game





Q & A:




Rewards:






Book 2: The Ultimate Field Guide




Q & A: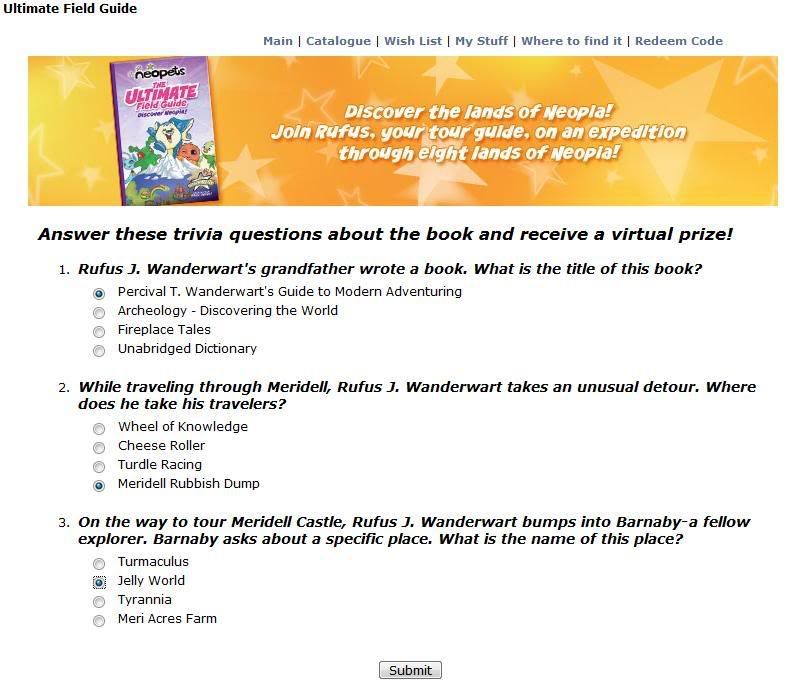 Other Questions:
Q. Many citizens of Brightvale have waited long lines to visit with King Hagen.
When they reach his throne, they only find a single sign. What does the sign read?
A. Out Studying

Q. Rufus J. Wanderwart loves The Lost Desert's fascinating history! He was about to tell a tale of heroes
and brave deeds when he was interrupted. Who interrupted Rufus?
A. Artemis Rambleshanks


Rewards:






Book 3: Grey Faerie Chronicles




Q & A:



Other Questions:

Q. What is the grand prize in the Faerie Festival?
A. Faerie Queen's Perodit Crown

Q. Edna the Witch agrees to give Nomi a special spell. But first she needs Nomi to bring her three ingredients for her potion. What are they?
A. Black Sand, Red Poppies, Purple Juppie Java

Q. What does Telos use to steal Nomi's faerie essence?
A. Amulet

Q. How did Ullia fight off the Skeith?
A. Dive bombing

Q. When Nomi first arrives in the Haunted Woods, she meets an Eyrie that helps her. What is the Eyrie's name?
A. Krestyl

Q. What was Nomi's answer to the Brain Tree's question?
A. Her name

Rewards:





Book 4: Ghoul Catchers





Q & A:



Other Questions:

Q. Something brushes against Sarn's leg when he jumps into the Old Swimming Hole. What is it?
A. Rainbow Primella

Q. Gnarthwal was hiding in a haunted castle. Who does the castle belong to?
A. Eliv Thade

Q. To receive information from the Brain Tree, Sarn must first correctly answer a riddle. What is Sarn's answer to the riddle?
A. Rain

Q. What effect did the first tonic have on Sarn after he drank it? It made him:
A. Invisible


Rewards:




Book 5: How to draw?





Q & A: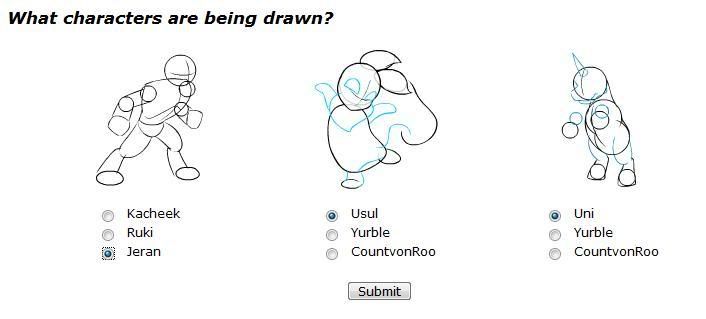 Rewards:




Will update later when I come across more question.
This entry was posted on Thursday, April 24, 2008 at 11:28 AM and is filed under
Dailies
,
Something New
. You can follow any responses to this entry through the
comments feed
.