Steps:

This is like sudoko.






There is a number at the right column.
You need to line up the symbols to add up to that number. (for that row)
If the combination is correct, you will see a bright light.


This is how it looks like.

Soft light.




This is the light you would want to see. It showed you have it right.




The puzzle is different for everyone. But the code is the same.
Each tiles has a number, and this is it:

1 =



2 =


3 =



4 =



5 =



6 =


7 =



8 =



9 =



10 =




When you have completed this, you will be brought to the next puzzle.
This 2nd one is easy. All you need to dois place the same color tiles together.

4 x 4 and when center button is lighted up, you are doing it right.






This is what it should look like.
Note: It doesn't matter that the symbol is not the same. The color of the tiles must be the same.





How to click?
Click on the tiles and it will turn red.
Then click on the space you want that tiles to go.
One space at a time.
You can move up, down, left, right, and diagonally.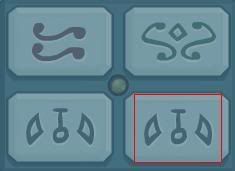 This entry was posted on Friday, October 10, 2008 at 11:28 AM and is filed under
Plot - Petpet Park
. You can follow any responses to this entry through the
comments feed
.