How to get:
Rank 1 level up to get this avatar.
One way to do this is by winning
50 games
(not goals) of
Yooyuball.
Or play about
700 games of Make Some Noise
.
But it's advised that you play a mixture of games and try to go level 1.
I am testing to see if you will get the avatar by just playing
Make Some Noise
.
If not, I will try to play some mixture of games.
Will come back to update.
If you know something about this, let me know. Thanks.
Update:
When you have meet the requirement for going into Level 1, you will have the Something Has Happened like this:

This is my boy's score.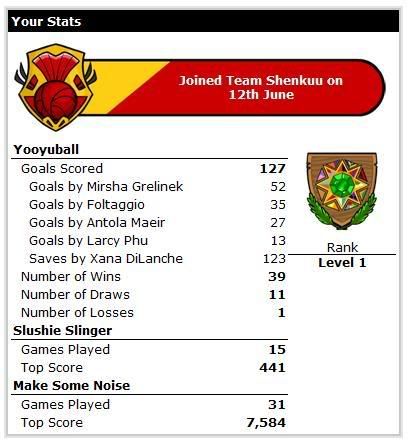 Kind of off from what some of the recommended calculation.
(You can find the calculation from jelly neo.
This entry was posted on Wednesday, June 25, 2008 at 12:07 PM and is filed under
Altador Cup 3
. You can follow any responses to this entry through the
comments feed
.