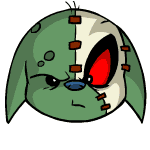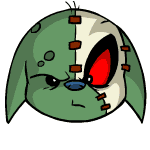 Kacheek Day - Jan 29th

As of Oct 2006, over 10.4 million Kacheeks are found in Neopia, making it the 3rd most popular Neopet.

The Kacheek looks like a cross between a teddy bear and a mouse or gerbil. Kacheeks are generally pleasant and are described on the Neopets site as fun-loving, calm, peaceful, and modest. They inhabit lush meadows, although they enjoy climbing things, and avoid violence whenever possible. They also love to gather flowers. They are also very cute.

The Kacheek was first known as the Badeek, one of the original pets on Neopet. It wore dark glasses and a less cheerful expression.

In the Neopets TCG, Kacheeks are associated with the element of Light.

Famous Kacheeks include:

* The Breadmaster


The owner of the bakery in Neopia Central.

* Alton Moughbry


He operates the game Potato Counter.

* Samrin


The Blue Kacheek from the game Extreme Herder.

* Albert


A mutant that appeared in the game Mutant Graveyard of Doom.

* Sir Cheekalot


He is the maker of a variety of Battledome equipment.

* Bacheek


A Tyrannian Kacheek and player of Go! Go! Go!. A rather unsuccessful player. He doesnt really understand what he is doing but he tries very hard.

* Eliv Thade


An evil Kacheek who was driven mad by a puzzle he couldn't solve. Ha!Ha!Ha!

* Florin


Guardian of the forests and fields of Altador and one of its twelve protectors

Mr. Chuckles


Mr. Chuckles used to work as an entertainer before the Theme Parks left town, now he sits practicing his tricks, waiting for his audience to return.

Otona


Protector of the Seas, weaving around the ruins of Ancient Maraqua Otona protects lost Neopets who travel too deep.

Tylix


An eager student, Tylix explores the realm of Gors the Mighty, hoping to find a key to Gors power without awakening the wrath of the mutant pygmy.

Professor Kachevski


This insane genius works day and night in the lower levels of the secret lab. Exactly what he does is unknown, but he always seems busy with new experiments.

Gedda Happycheek


Gedda Happycheek is a tiny Kacheek, who looks after a tribe of even smaller Kacheeks. They live in the undergrowth and look after the tiniest of insects,

Montecito


Montecito is a Right Defender for Brightvale in the 2006 Altador Cup. He may look cute and innocent, but this adorable little fellow is the dirtiest shover and clutcher on the Brightvale squad. "The Baby Faced Mauler" (as he's known by the fans of Brightvale's rivals) will stop at nothing to keep an opponent from getting a shot on goal.

Babolino


Babolino is one of the players for 2006's Altador Cup, and a Left Forward for Faerieland . Well known for his ability to score goals in bunches, Babolino's lack of defensive intensity will sometimes allow the opposing team to score a few easy goals of their own.

Avatar related to Kacheeks:
Evil Eliv Thade avatar


Score 1300 points or more in The Castle of Eliv Thade. You need to score 950 points before doing the last one (8 words) which is when you enter the crypt. It should give enough poitns for the avatar.

To score 950 this is what I do. I go one round (you have to do this to finish the game) through all the rooms. Then get back to where you started, then move left and right with max move which is 3-square which is 7 words, it will take a while. When you hit 950pts, go into the crypt. Well, nothing is easy.

Herder Avatar


Score 250+ on Extreme Herder

Kacheek Swim avatar


Take your Kacheek, which has to be your active pet, to the Beach on Mystery Island.

Mutated Doomed Avatar


Go to the Game Graveyard and refresh a LOT. Yap. Hit that F5 button alot. It took me months. At least this is free. The lever of Doom cost 100np every click and I have spent like 50,000NP and I still haven't got the AV.

Must Keep Smiling Avatar


Get this while playing Kacheek Seek. I got this AV pretty early. But it still took me like a month of constant playing to get it. Totally random.

Some kacheeks if you are interested.

This entry was posted on Wednesday, November 08, 2006 at 10:46 AM and is filed under
Pets Petpets Petpetpets
. You can follow any responses to this entry through the
comments feed
.