This page will be updated with new prizes everyday until April 12.
Rosie, the Grarrl, is giving away toy neggs for the
Springtime Celebration
.
Pay her a visit everyday till April 12.
Day 1
(mar 31)
Toy - Cybunny Ears with a Spring Bow
Day 2
(apr 1)
Toy - The Great Negg Hunt
Day 3
(apr 2)
Toy - Mismatched Toy Neggs


Day 4 (apr 3) Toy -
Stylish Spring Vase

2nd freebie:
Go to
The Deserted Fairground
and visit the game and places (random for everyone) there to collect
Rotten Negg Face Splat
(I got mine at Ghost Paintbrush)
You will see this when you go to the right place.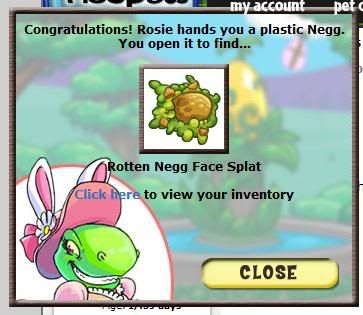 Day 5 (Apr 4)
- I didn't get any. A glitch.
Day 6 (Apr 5) - Lemon Creme Negg
2nd freebie:
Go to
Virtupets Space Station
, visit the different places there and try to get this: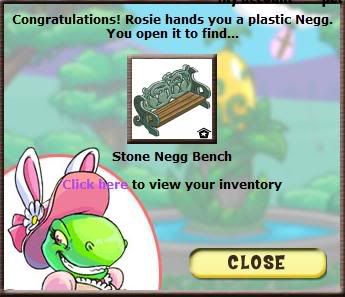 Stone Negg Bench
Day 7 (Apr 6) -
Golden Negg Fountain

It has the same message as yesterday:
A deck on this interstellar base is your prize's current resting place.
Right now, not sure if there is a 2nd freebie or it's a glitch where they (TNT) doesn't do their job properly. Will update later.
Update: There is no 2nd freebie. Just a glitch.
Day 8 (Apr 7) -
Gardens of Neopia


2nd freebie:

Hint:
Somewhere on this frozen peak waits a prize for those who click and seek.
Go to
Terror Mountain
visit the different places there and you should get the pop up window which will tell you that you got the 2nd freebie.
Spring Courtyard Background

Day 9 (Apr 8) -
You get 3 freebies today.
(a) Negg Nobody Found Last Year




(b) Filigree Carousel Negg

(c) You have received a bonus 50 Free NC.
Note from :
Today, you received your free gift, plus the prize from 4/4 (a Neocash item)! Enjoy your prizes and thanks for your patience!



And it's in the News today that though we didn't get the prize for 4/4, we are still qualified for the bonus prize on Apr 13.
Day 10 (Apr 9) -
Wind Up Baby Pteri

2nd Freebie:
Hint: This tropical island's mystery? A reward that's sure to bring you glee!
Go to Mystery Island and click away until you see this:
Delicate Enamel Negg



Day 11 (Apr 10) -
Pretty Wicker Negg Basket

Day 12 (Apr 11) -
High Flying Kite
This entry was posted on Thursday, April 02, 2009 at 6:44 PM and is filed under
Freebie
,
Something New
. You can follow any responses to this entry through the
comments feed
.