I got these information from The Board. Someone was kind enough to post it there.

1. The Goodie Bags are in the NC Mall and appear at random times.

2. When they appear, they appear for everyone, but only for a short period of time.

3. The Goodie Bags are known only to contain Neopoint items, and it's recommended not to open them as the items are not worth much.

4. There are 3 Goodie Bags, and each tells you that if you collect all 3 before Oct. 31st, you receive a "special prize". These are what the bags look like:









Keep checking the NC Mall main page.


Update:

Keep refreshing at the NC Mall Main page.
You should be able to see Spyder Web Costume Pack on the main page.
Refresh and then you will see the bag appear (randomly).




Click on it.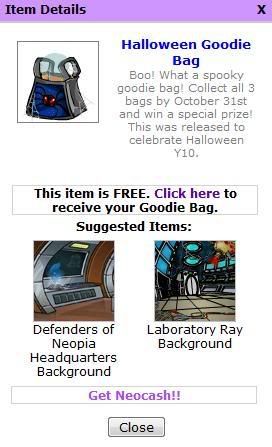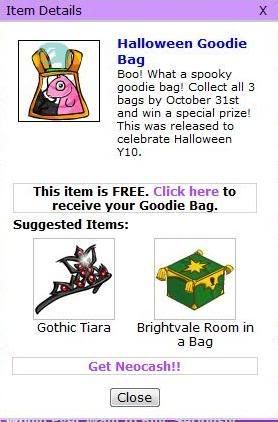 Click on "Click Here" to get the bag.
It's free.


If you got it, then you will see this message that say the item has can be found in your item.





Sometimes it can be unsuccessful. So try again.





So far lots of people complained that they couldn't get the Meowclops bag. I have been stalking the NC Mall for hours and all I see is this:




Sold out.

So if anyone out there has this bag already, let me know. Then I will continue to stalk or else, I am just going to give up. :D







Update: October 21

You can get the Meowclop Goodie Bag.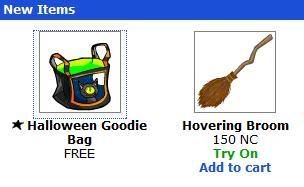 Update: Oct 24, 2008

Someone asked how do you get the prize from the bag.

Click on the bag and a pop up window will show the option.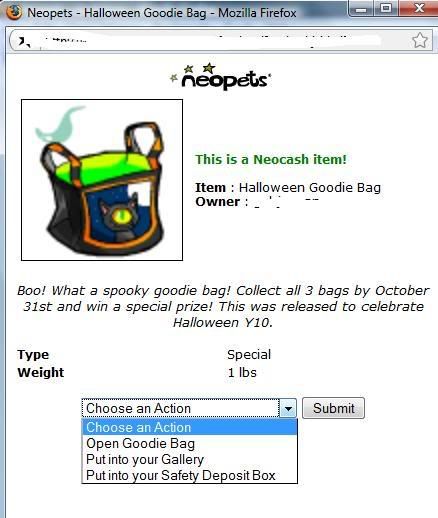 Click on Open Goodie Bag.
And you will get to see what goodies you got.

Good Luck.
This entry was posted on Friday, October 17, 2008 at 11:08 PM and is filed under
Halloween
. You can follow any responses to this entry through the
comments feed
.