Today is randomly themed ... Purple Day!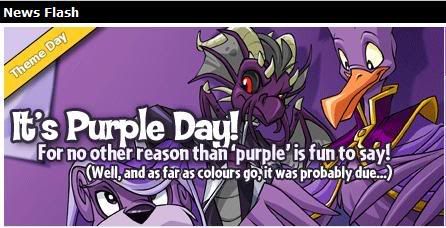 And TNT said:


If you're really smart, or just darn lucky, you may just stumble upon the latest Neopets site theme.

This is what they are talking about:
To get this sidebar, you have to visit a purple Neopet with a purple petpet, like this one
HERE.
To get the Purple Theme, go to your
Site Preference
and change it to Neopet Purple
This entry was posted on Wednesday, August 15, 2007 at 2:24 PM and is filed under
Basic
,
Neopet News
. You can follow any responses to this entry through the
comments feed
.