In Meridell, it was a time
of peace and prosperity.
The land was ruled by King Skarl,
a wise and just ruler.



But as he was nearing the end of his reign,
the king was betrayed by one of his closest
advisors. The king was kidnapped, and hidden away.
The advisor, Ramtor, crowned himself king.
Ramtor was a corrupt and evil ruler,
oppressing the people, and taking
the land's riches for himself.



The people cried out for someone
to save them, but for many years
their cries went unheeded.
But in the far reaches of the land,
in a place many had forgotten, a journey began
that might free the land from tyranny...



...but the young Blumaroo who set out that day
did not know what lay in store for him...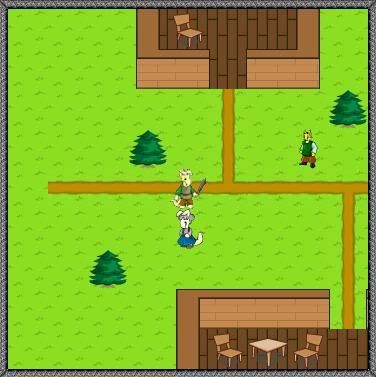 You start off with 32hp.
You begin at Trestin Village. Here you get to meet:
(Note: You can choose not to talk to this people.)

Rohane's mother

Mother says: "Now you be careful out there! There's all kinds of dangerous creatures and animals in the wilderness these days. Thankfully they won't come into town, but that doesn't mean they aren't dangerous. Good luck, and take care of your father's old sword. I know he would have wanted you to have it, and it should help keep you safe."

Pongoras

Pongoras says: "The monsters that have been roaming the countryside won't come too close to towns, but there's a cave to the north of here that has all sorts of fiends inside. I wouldn't go there, if I were you. At any rate, if you're going to be out adventuring, I'd recommend staying right near town until you've gained some experience."

You say: "What can you tell me about the cave?"

Pongoras says: "The cave? I think it used to be a mine of some kind, but it's been abandoned since before I was born. I don't think anyone has been in there in years, but with all the monsters infesting it now, I can't imagine that anyone would want to go there!"

You say: "What else is near the village?"

Pongoras says: "Well, there's the mountains to the north, and the coastline all around... if you head northeast and then south, you'll get to the city of White River. You can't trust city folk, though. Be careful if you go there."

Jimba

Jimba says: "Aahh! Oh, sorry, it's just you. I've been a bit on edge lately, with all these nasty creatures roaming around. Why, just the other night, I had to fend off a ravening lupe that tried to eat some of my flock!"

You say: "How is your flock doing?"

Jimba says: "My poor babaas haven't been getting any sleep, what with all the howling that goes on at night. Those crazy lupes out in the wilderness sure are making things difficult, with all that racket."

Marvis

Marvis says: "It's too bad that your father isn't still with us to see you going off to adventure. He would have been so proud of you."

You say: "What else do you know about my father?"

Marvis says: "Well, he had kind of a mysterious past. He didn't talk about it much. I think he used to be a soldier or warrior, before he met your mother and settled down to have a family. That's where he supposedly got that sword he left you, anyway. Although if he really had been a soldier, don't you think he'd have kept his armour, too?"

Tolain

Tolain says: "I don't understand why all the animals that live in the nearby lands have become so aggressive lately. Why, I used to be able to walk all the way to White River, at night, without having to worry about a thing. Now, I can't even go out during the day without being set upon by ravenous beasts!"

You say: "What kinds of beasts?"

Tolain says: "Well, the lupes, aishas, and bearogs that live in the plains and forests near here used to be so tame and peaceful -- why, you could walk right up and feed them snacks out of your hand. I even hear that the gelerts that live to the northeast have become hostile."

You say: "Tell me about White River."

Tolain says: "White River is the next nearest settlement. It's a day's walk from here; just go around the mountains to the north, then over the land bridge to the northeast, and follow the coastline south. You can't miss it; it's the only way to cross the river, which is, not coincidentally, called the White River."
The traveling Bar:
Inventory: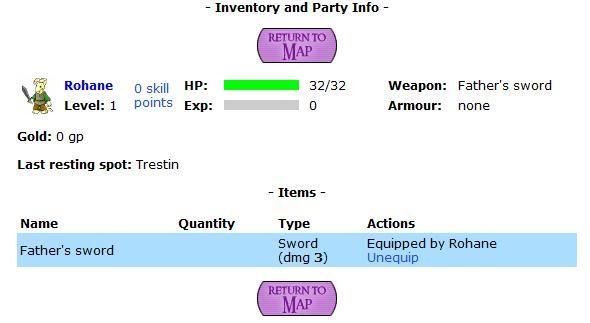 Healing:
If your HP is running low, go back to mother and talk to her. She will heal you.
Mother says:
"Well hello, dear! Have you been having fun out in the world?"
You say:
"I need rest. May I spend the night at home?"
Mother says:
"Why, of course, dear! How could I possibly turn you away from the house you grew up in?"
You rest for the night, and wake up refreshed and healthy.How to fight: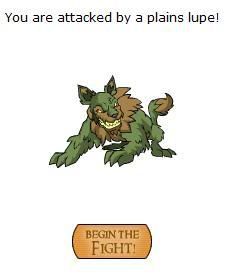 Click on the Attack.
The 1s, 3s and 5s means Do Nothing for 1 second, 3 seconds, and 5 seconds.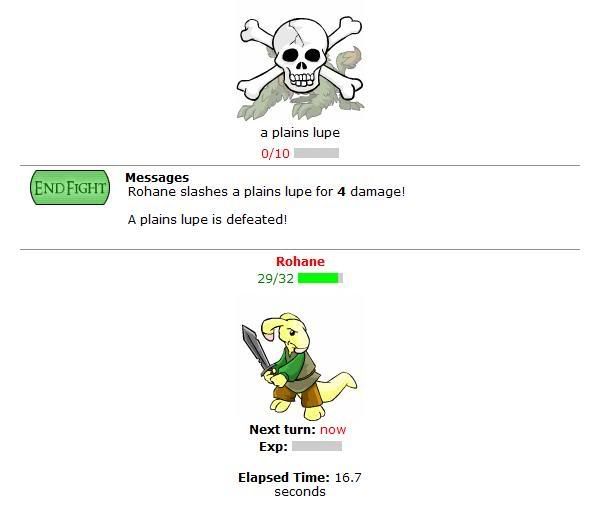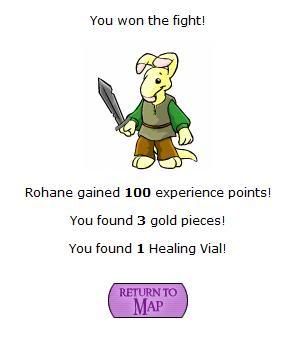 Avatar:
There is an avatar to collect from this part of the game. Lose to a plain lupe and get this avatar:
How to Spend the Skills Points:
Like NQ 1, when you earn enough experience points, you gain a level. Every level you gain, you get 1 skill point to spend. So how do you spend these skill points? The recommendation that is given by players is this:
1 skill of Damage increase
1 skill of Innate Magic Resistance
1 skill of Innate Melee Haste
1 skill of Critical Attack.
Spent it in this order until the skills reached level 12. By then you should be on level 49.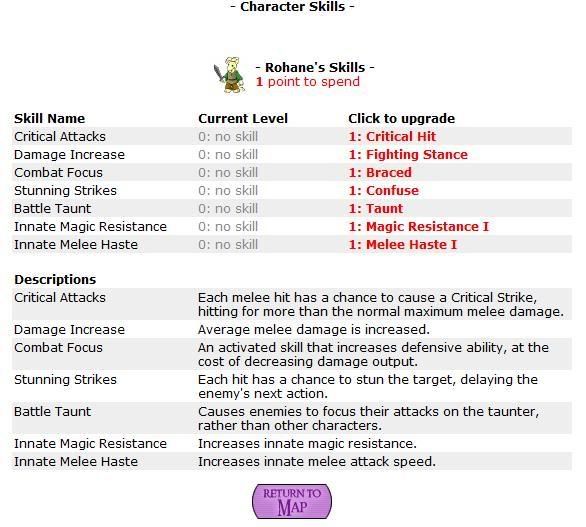 What do you do here:
Hunt around Trestin or the Western Plain and level up till around level 4-5 before you headed towards The Dark Cave.
Note:
Unlike NQ1, in NQ2, it doesn't matter which pet you play with. You can continue to play NQ2 regardless of which pet you use as the active pet.
This entry was posted on Saturday, August 11, 2007 at 11:27 AM and is filed under
NQ 2
. You can follow any responses to this entry through the
comments feed
.